Bubble Dôme Village - Saint-Joseph
Come enjoy moments of tranquility and serenity, far from the hustle and bustle of everyday life!
Bubble Dome Village is a new eco-friendly accommodation concept that offers a perfect blend of comfort and nature. The village of Saint Joseph works in Standalone formula. For the hotel formula we opened the Bubble dome Village Petite Ile.
You can now have breakfast delivered at 8 €/person and evening meal at 20€/adult and 12€/child (up to 11 years) directly on your platforms.
Bubble Dôme Village ranks among tourist accommodation, glamping, unusual holiday rentals.
6 years ago, there was no unusual structure in Reunion. Our idea was to propose an alternative to mass tourism in an ecological approach.
It is suitable for families as well as for couples looking for an unusual place to spend a romantic time.
Located in Saint Joseph in the district of Jacques (5 minutes from the center) and the Langevin River), it is the ideal starting point for discovering the wild South.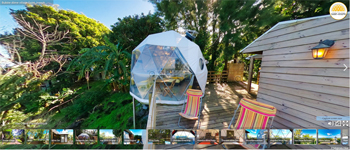 The success of our concept is based on its unusual appearance and the assurance of a high level of comfort (bed, private area, shower and private bathroom, private kitchen).
This mode eco tourism responds to a growing public demand in recent years.
After a successful first experience in Saint-Joseph Formula Autonomous, we decided to extend the offer under a hotel formula with the opening of the Bubble Dome Village Petite Ile.
The principle of our villages, is to reconnect with nature. For this we had to find natural spaces, far from the urban environment ensuring the peace and quiet that our customers are looking for.
On the other hand the wild south offers an authentic environment of Reunion which remains still preserved mass hotel buildings.
The proximity of the lava flows, the Langevin river, as well as the many ballads in the high (large elbow ...) combine perfectly nature and mountain sides.
The Domes of the Saint-Joseph site
Gifts Vouchers
Looking for an original and unusual gift idea?
We offer several gift vouchers for 2, 3 or 4 people, for 1 or 2 nights.
After placing your order you will receive a good PDF summary to print, numbered and valid for 1 year from the date of purchase.
Bookings for the weekend and school holidays are two nights minimum. . Therefore if you have chosen a good gift for one night, your gift voucher will be valid for the weekend or holidays, however, the second night will be paid on site.
On the spot
In addition to the relaxed and friendly atmosphere, Bubble Dome Village offers a common area in a large garden, lit up at night until 10 pm.
The common area is equipped with a ping pong table, a trampoline, outdoor games and a barbecue area. coal as well as a large wooden table.
A hot spot and a shop are located 1km from the Bubble Dome Village. The city center is 5 minutes by car.